Mahatma Gandhi - 'Bapu'
Mohandas Karamchand Gandhi was born on 2nd October 1869, at Porbandar, to Karamchand Gandhi and his wife Putlibai, a very devout woman. Mohandas was greatly influenced by his devout mother. Uttamchand, Mohandas's grandfather was a Diwan (Prime Minister) of the Porbandar state. His father, Karamchand, also served as Diwan of Porbandar, Rajkot and Vankaner states.
As a boy, Mohandas was extremely shy and timid. He showed no sign of any genius that would point to the 'Mahatma' (great soul) that he really was. He seemed an ordinary child. Mohandas studied in an elementary school at Porbandar. The family moved to Rajkot when he was seven and he continued his elementary school education there and then went to high school.
Even from his childhood Mohandas had a passion for Truth. The story of Harischandra who stuck to Truth always had a great impact on Mohandas. Gandhiji writes "It haunted me and I must have acted Harishchandra to myself times without number." A significant incident occurred during his school days. A British School Inspector once visited Mohandas's school to examine the students. He set a spelling test. Noticing a mistake committed by Mohandas the class teacher signed to him to copy the right spelling from the boy seated next to him. However, Mohandas refused to take the hint and later had to face the teacher's wrath for being 'stupid'. His passion for being truthful and open is seen in another incident, too. Born in an orthodox, vegetarian family he took to eating meat on the sly on the recommendation of a friend of his elder brother. This friend convinced Mohandas that meat eating bestowed power and it was only due to this that the British could rule India. The timid boy who yearned deeply to turn brave began to eat meat but soon gave up, as he had to hide it from his parents and this meant deceit and lies.
It is interesting to note that an old nurse of his taught him to repeat the Divine Name "Rama" whenever he felt scared or miserable. Little Mohandas took hold of this and it became second nature to him. Ram Naam that his nurse had taught him made him fearless. His undaunted spirit was seen in his battle against the oppression of the British.
Gandhiji's life was one of continuous sadhana in search of Truth. He calls God as Truth and goes on to say that Truth is God. Bapu says, "And when you want to find Truth as God the only inevitable means is Love, i.e. nonviolence, and since I believe that ultimately means and end are convertible terms, I should not hesitate to say that God is Love."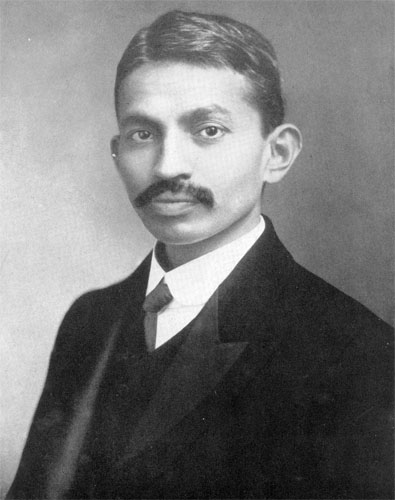 At 13 years of age Mohandas was married to the 14 year old Kasturbai Makhanji. They lost their first child born when Gandhiji was 15 years old but had four more children, all sons. After the completion of his studies at Samaldas College, Bhavnagar, Mohandas went to London to study Law at the University College, London. Before his departure to London he promised his mother to abstain from meat, alcohol and promiscuity. It was in London that he read the Bhagavad Gita at the request of the members of the Theosophical Society and thus interest in religion sprouted in him. At this time he also joined the Vegetarian Society. He was called to the bar in 1891. His mother passed away while he was in London.
After his return from London he went to Mumbai for practicing law. But he met with failure and returned to Rajkot. It was then that he received an offer from Dada Abdulla & Co. and moved to Natal, S.Africa which was also under British rule. It was here that he, for the first time,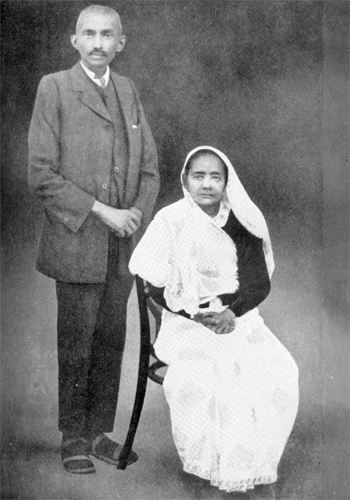 experienced the persecution of Indians by the British. He was thrown out of the first class compartment of a train in which he was traveling, as only whites could travel in it. In a later incident he was beaten by a driver for refusing to make room for a white traveler and travel on the foot board. He was also ordered to remove his turban by the magistrate of a Durban Court which he refused. These incidents proved to be the turning point in his life. He realized the status of Indian in South Africa under British rule. He helped the South African Indians to oppose a bill which, if passed, would deny them the right to vote. He failed in his efforts but attention was drawn to the condition of S.African Indians and the Natal Indian Congress took birth. This created further bitterness and the whites attacked him when he visited Durban. Fortunately, the intervention of the police Superintendent's wife saved him. However, he refused to press any charge against the mob that had attacked him.
For the first time, Gandhiji introduced 'Satyagraha' – to protest through non-violence – to fight the Transvaal Government's decision to introduce an Act which insisted on the registration of Indians. On his advice the Indians disregarded the new law; they burned their registration cards. Gandhiji and innumerable Indians were jailed and flogged for this but ultimately the Government was compelled to negotiate with Gandhiji. Fighting the oppression of the British rule through non-violence took shape here at this time. In 1914 when the world war broke out he did not support the idea of British Empire's crisis was India's chance. He felt that we had to extend our cooperation at the time of need. He believed that it was the individual officials who were at fault and not the system itself. He felt it was the duty of India to stand by them at this time of need.
G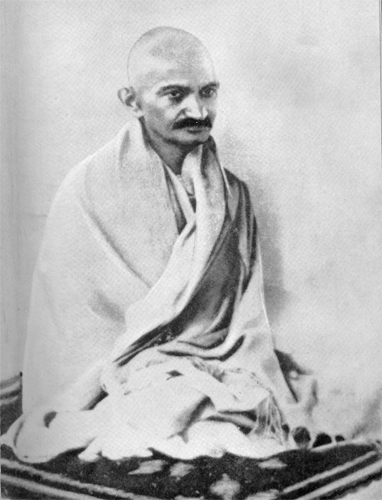 andhiji returned to India in 1915; it was at the insistence of Gopal Krishna Gokhale, a respected leader of the Congress party that he spoke at the Indian National Congress convention. He pointed out that the real India was found not in the small circle of wealthy people in cities but in the countless poor in the villages. He then went to his native place Porbandar and Rajkot and from there to Shantiniketan in West Bengal. It was here that he received the staggering news of Gokhale's sudden death. Gokhale had been his political guru. Gandhiji then spent his life studying the conditions of India. He traveled all over India. His heart bled seeing the miserable conditions of the people in villages. Due to his belief that one in public life should be simple he changed to simple dress code from his western-style attire.
Gandhiji founded the Sabarmati Ashram near Ahmedabad in 1917. The members of the Ashram had to take vows of truth, non-violence and chastity. Every one of its member had to do physical labor and no work to be considered menial. It was a rigorous life at the Sabarmati Ashram that had a large farm and a spinning and weaving section. Gandhiji advocated use of Khadi.
Life was not easy at the Sabamati Ashram; no servant to do the washing or cleaning. Gandhiji was affectionately addressed as Bapu and Kasturba Gandhiji as Ba. It was one big family made up of diverse group – little children and the very old; western educated and Indian scholars, sincere, devout ones and disbelievers. When any member of the Ashram erred Gandhiji blamed himself and went on a fast as a measure of atonement.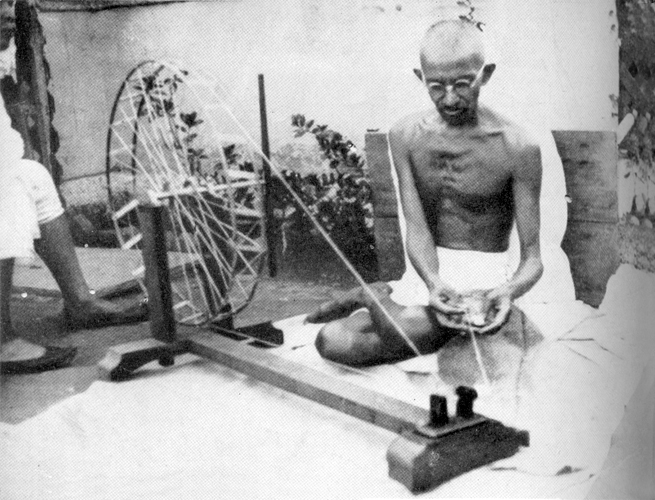 Gandhiji reorganized the Indian National Congress which was in touch with the masses. It was not just for the wealthy but was thrown open to the masses in villages. Very soon he earned the love and respect of the Indian mass. He was the very embodiment of sacrifice and courage. The 'naked fakir' as nicknamed by Churchill came to be adored by the Indian mass as Mahatma (great soul). Jawaharlal Nehru and several other young men enthusiastically joined Gandhiji giving up their lucrative careers. A deep bond grew between Gandhiji and the people of India from various walks of life.
The British did not respond to the resolution passed at the Calcutta Congress demanding grant of Dominion status to India and on 31st December 1929 the Indian flag was unfurled in Lahore. The Indian National Congress, Lahore, celebrated 26th January 1930 as the day of India's Independence. Non-cooperation movement gathered momentum under the leadership of Gandhiji. Gandhiji sent a letter to the Viceroy of his intention for civil disobedience – no-tax campaign in Bardoli Taluk in Gujarat. Three days later there was a clash between the police at Chauri Chaura and a procession party. The police station was set on fire and twenty-two policemen were killed. Gandhiji stopped the campaign for non-cooperation movement, as he realized that the Nation was not yet ready for it. The Government, grabbing the opportunity, arrested Gandhiji and the British Judge in whose presence the trial was held was highly reverential in his attitude towards Gandhiji, the accused. Gandhiji pleaded guilty and was sentenced to six years imprisonment; in prison, Gandhiji spent his time reading books and keeping up his routine of morning and evening prayers and spinning.
In March 1930 Gandhiji launched the Satyagraha movement agains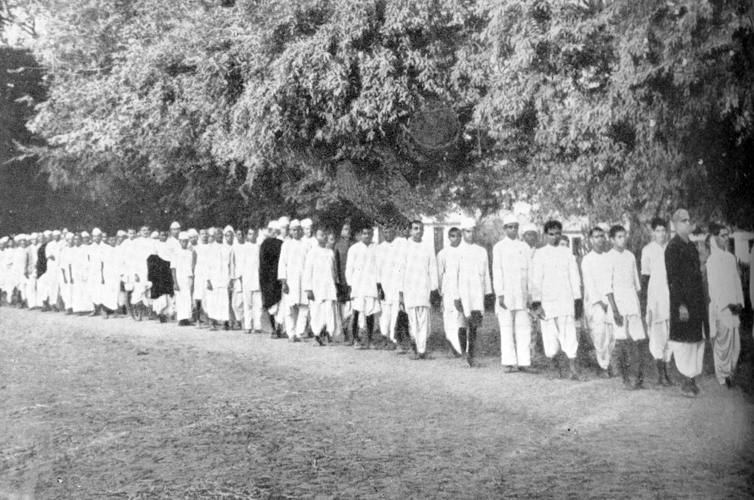 t salt tax. The Dandi march, as it was called, in protest against the levy of salt tax seemed a laughable matter for the British. They saw no connection between salt and independence. Large number of volunteers joined Gandhiji in his 241 miles walk from his ashram near Ahmedabad to Dandi on the Arabian Sea to make salt himself. It was one of the most successful campaigns of Gandhiji which shook the very root of the British Empire. Thousands of people were arrested and imprisoned.
Gandhiji was arrested on 5th May. However, several thousand volunteers went ahead with their leader's plan to rebel through Ahimsa (non-violence) by taking hold of the salt depots at Dharasana. In spite of the absence of their leader the volunteers stuck to ahimsa. Not one of them lifted a single finger even when thrashed by the police officers. A ditch had been dug and barbed wire barriers constructed around the depot which was to be taken over by the Satyagrahis. The order of the Police officers for volunteers to disperse fell on deaf ears. As they advanced towards the depot in an orderly fashion several policemen attacked them with lathis (sticks). But not one of them lifted his arm to repel the blows that struck them. Webb Miller, an American correspondent, a witness to the scene, wrote: "In eighteen years of reporting in twenty two countries I have never witnessed such harrowing scenes as at Dharasana. Sometimes the scenes were so painful that I had to turn away momentarily. One surprising feature was the discipline of the volunteers. It seemed they were thoroughly imbued with Gandhi's non-violent creed."