Bangalore Yajur Veda Sampoorna Gana Parayanam
Shukla Yajur Veda sampoorna gana parayanam comes to a grand and divine completion at our Bangalore Sundara Anjaneyaswamy temple in the Holy Presence of Guru Maharaj HH Maharanyam Sri Sri Muralidhara Swamiji on 5th August 2018.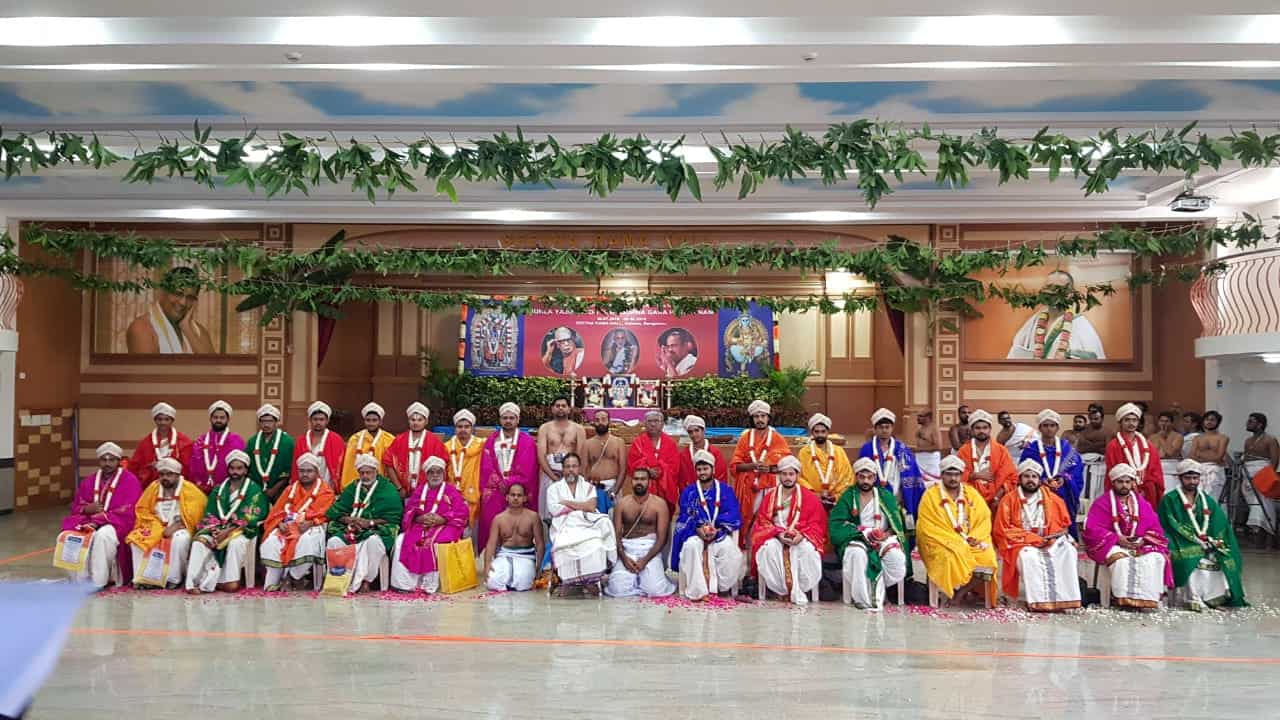 On Behalf of Maharanyam Sri Sri Muralidhara Swamiji Kaingarya Sabha, Sampoorna Vedaparayanam (Recital of Vedas) happens every year grandly at Bangalore Sri Sundara Anjaneya Swami Temple Premises. In 2016, between July 20th and July 29th, at Sundara Anjaneya Temple, BrahmaSri Chandramouli Srowthigal of Ambathur presided over Sampoorna Sama Veda Parayanam. It was attended by 28Veda Vidwans.
In the year 2017, between July 16th & July 22nd, under the Leadership of BrahmaSri Udaneshwara Bhat who is our Sandeepani Gurukula Patasala's Adhyapaka(Teacher), 48 Veda Vidwans took part & recited Sampoorna Rig Veda Parayanam grandly.
Similarly in 2018 this year, between July 30th & August 5th, led by BrahmaSri Vijayaraghava Ganapatigal & BrahmaSri Dhandapani Ganapatigal. 27 Vedavidwans participated & recited Sampoorna Shukla Yajur Veda Parayanam. On August 5, the last day of Parayana, the Veda Vidwans were properly felicitated with Padhaprakshalanam (washing feet with waters), were Garlanded, adorned with Kreeda (thalaipagai) & were provided with 'Yadashakthi Sambhavana' (money). Sri Sankaranarayanan of Bangalore took care of all the needs very ably & admirably.
(In Tamil)
மஹாரண்யம் ஸ்ரீ ஸ்ரீ முரளீதர ஸ்வாமிஜி கைங்கர்ய சபாவின் சார்பில் ஒவ்வொரு வருடமும் சம்பூர்ண வேத பாராயணம் நடந்து வருகிறது. 2016ஆம் வருடம் ஜூலை 20 முதல் ஜூலை 29 வரை பெங்களூர் சுந்தர ஆஞ்சநேயர் கோவிலில் அம்பத்தூர் ப்ரும்மஸ்ரீ சந்திரமெளலி ஸ்ரெளதிகள் தலைமையில் சம்பூர்ண சாமவேத பாராயணம் நடைபெற்றது. இந்த சாம வேத பாராயணத்தில் 28வித்வான்கள் கலந்து கொண்டார்கள்.
2017ஆம் ஆண்டு ஜூலை 16 முதல்  ஜூலை 22  வரை சம்பூர்ண ரிக் வேத பாராயணம் சுந்தர ஆஞ்சநேயர் கோவிலில் நடைபெற்றது. இந்த ரிக் வேத பாராயணத்தில் நமது சாந்தீபனி குருகுல பாடசாலையில் அத்யாபகராக இருக்கும் ப்ரும்மஸ்ரீ உதனேஸ்வர பட் கனபாடிகள் நிர்வாகத்தில் 48வித்வான்கள் கலந்து கொண்டு வேதபாராயணம் செய்தார்கள்.
இந்த வருடம் 2018ஆம் ஆண்டு ஜூலை மாதம் 30ஆம் தேதி முதல் ஆகஸ்டு 5ஆம் தேதி வரை சம்பூர்ண சுக்ல யஜுர் வேத பாராயணம் நடைபெற்றது. இதில் ப்ரும்மஸ்ரீ விஜயராகவ கனபாடிகள், ப்ரும்மஸ்ரீ தண்டபானி கனபாடிகள் தலைமையில் 28வித்வான்கள் கலந்து கொண்டு பாராயணம் செய்தனர். ஆகஸ்டு 5ஆம் தேதி பூர்த்தி தினத்தன்று வேத வித்வான்களுக்கு பாதம் அலம்பி, மாலை மற்றும் தலைப்பாகை அணிவித்து, முடிந்த அளவில் சம்பாவணை கொடுத்து அவர்கள் கெளரவிக்கப்பட்டார்கள். இதனுடைய முழு ஏற்பாடுகளையும்  பெங்களுர் ஸ்ரீசங்கரநாராயணன் மாமா பொறுப்பேற்று நன்றாக நடத்தி வைத்தார்கள்.